February 20, 2021
Almond Flour Raspberry Chocolate Chip Cookies
Add a little zing to your cookie game with these Almond Flour Raspberry Chocolate Chip Cookies! These cookies are based on my Almond Flour Chocolate Chip Cookies but made with a fruity twist. They're soft, chewy, dangerously delicious! All you need is one bowl and about 30 minutes to make these simple, sweet and surprisingly satisfying raspberry cookies. Gluten Free + Vegan Option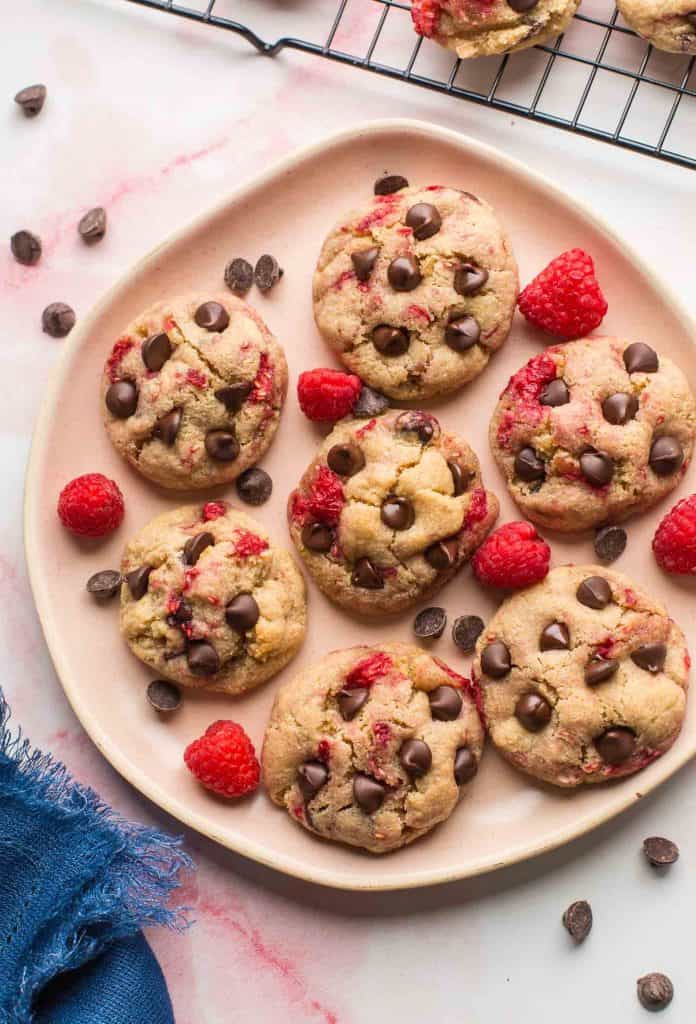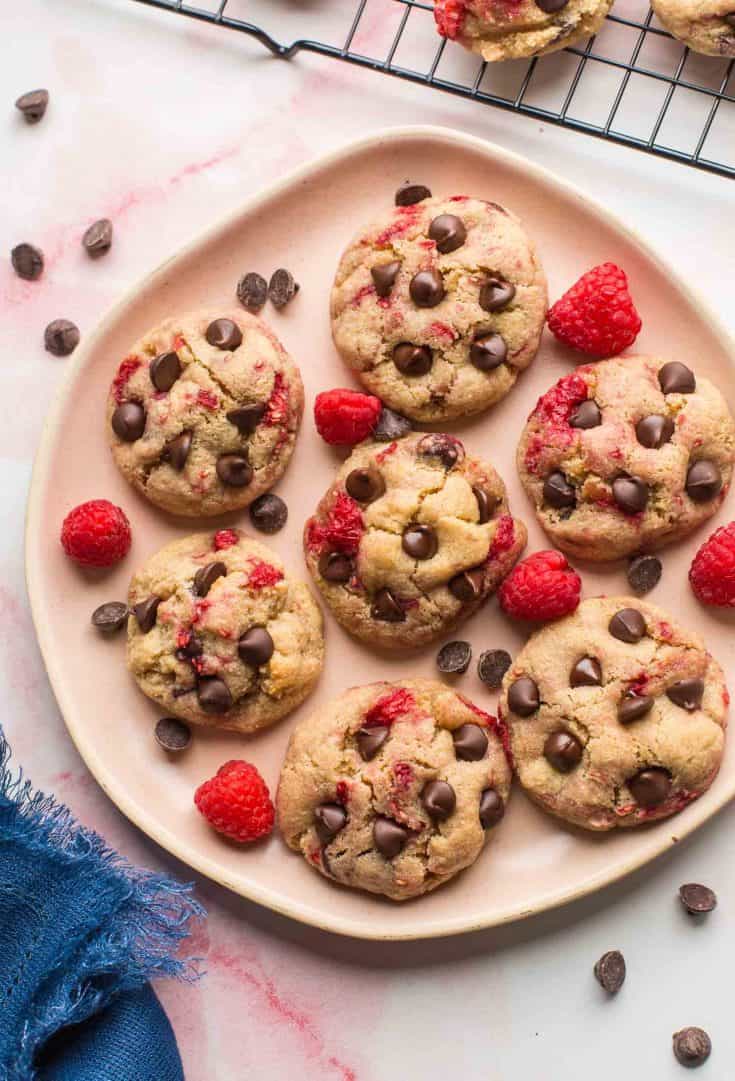 I couldn't decide between making an oatmeal and almond almond flour version of these cookies – so I decided to just make both! In case you missed it – last week I shared a batch of Oatmeal Raspberry Chocolate Chip Cookies. This week it's all about these Almond Flour Raspberry Chocolate Chip Cookies.
As much as I do love the oatmeal variation I'd be lying if I didn't admit that this almond flour version is easily my favourite. The soft and chewy texture combined with the natural sweetness of almond flour is undeniably delicious.
How to Make these Almond Flour Raspberry Chocolate Chip Cookies
These cookies are super easy to make – they're prepped all in one bowl and can be whipped up in about 30 minutes.
Beat together the butter (dairy free butter if needed) and brown sugar until combined then add the egg and vanilla. Note: I have tested these cookies also using a flax/chia seed egg and they came out perfectly!
Mix in the dry ingredients: add the flours, salt and baking soda then mix into a thick, soft dough.
Stir in the chocolate chips followed by the frozen raspberries. Mix until both chips and berries are evenly distributed throughout the dough.
Scoop out dough and bake. The cookies won't spread too much as they bake so I like to press the dough down slightly before popping them in the oven.
Press a few more chocolate chips in the hot cookies as they come fresh out of the oven and that's it! Nothing left to do except cool and enjoy.
Substitutions
Make it egg free:

You can use a flax or chia egg in place of a regular chicken egg. Essentially you're combing 1 tablespoon ground flax or chia seeds with 2 tablespoons water and give that mixture time to gel up.Here's where you can read more on how to make flax eggs. Chia seed eggs can be done in the exact same way.
You HAVE to let the cookies cool on the baking sheet for at least 10 minutes before moving to a wire rack. If you try to move the cookies too soon they'll fall apart. Once fully cooled they can easily be moved, held and stored without breaking.

Use white chocolate chips in place of dark/semi-sweet chocolate

You can use a combination of white and dark chocolate or replace all of the chocolate chips with white chocolate.

Use blueberries instead of raspberries

Simple enough! You can use fresh or frozen blueberries in an even swap.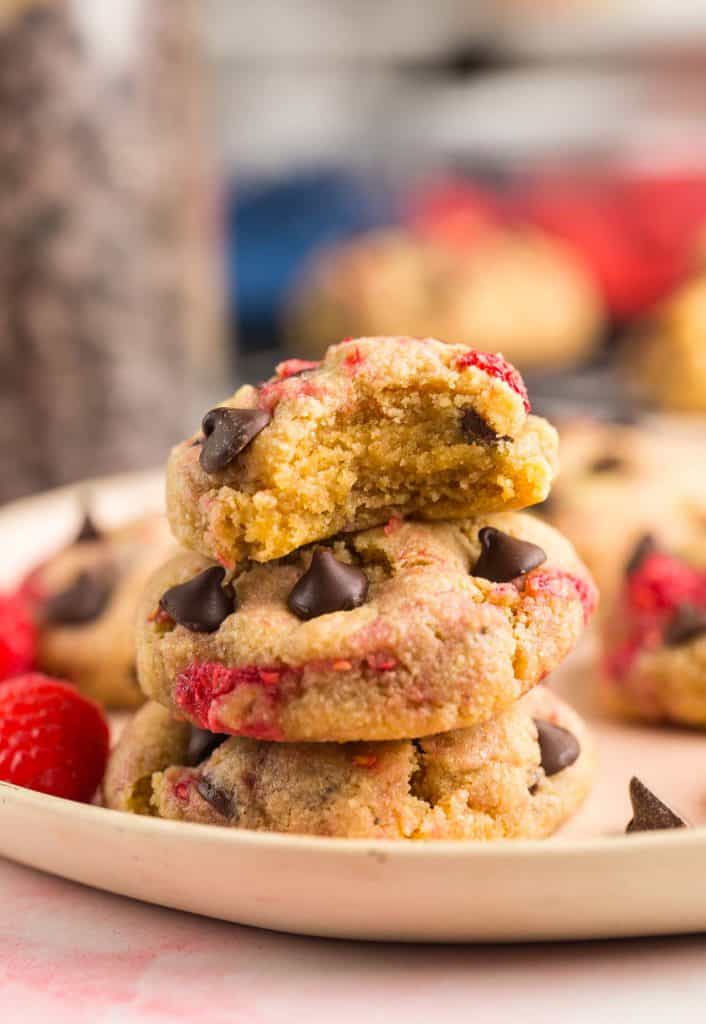 Final Tips
Use a kitchen scale
When it comes to gluten free baking I recommend weighing your ingredients out with a kitchen scale for best, more accurate results. I find this especially important when working with almond flour and coconut flour as they are both flours that tend to vary wildly when you use cup measurements.
Wire cooling racks are necessary
After your cookies have cooled enough to handle and move (remember that flax/chia egg cookies more time to cool) it's important to remove your cookies from the baking sheet to cool on a wire rack. You need a cooling rack so that you can get air flow to the bottom of the cookies. The raspberries will release water even after baking. If the cookies are left too long without moving (over an hour) then they might get a bit soggy on the bottom. Once they've had some breathing room they'll be fine.
Freeze for later
Once fully cooled, place the cookies on a baking sheet you can fit in the freezer. Place in the freezer until solid and then transfer the cookies to a bag or Tupperware container – place a small sheet of baking parchment in between each cookie to prevent cookies from freezing together. Cookies will keep up to 3 months in the freezer.  You can enjoy frozen cookies straight out of the freezer or allow them to thaw in the fridge overnight.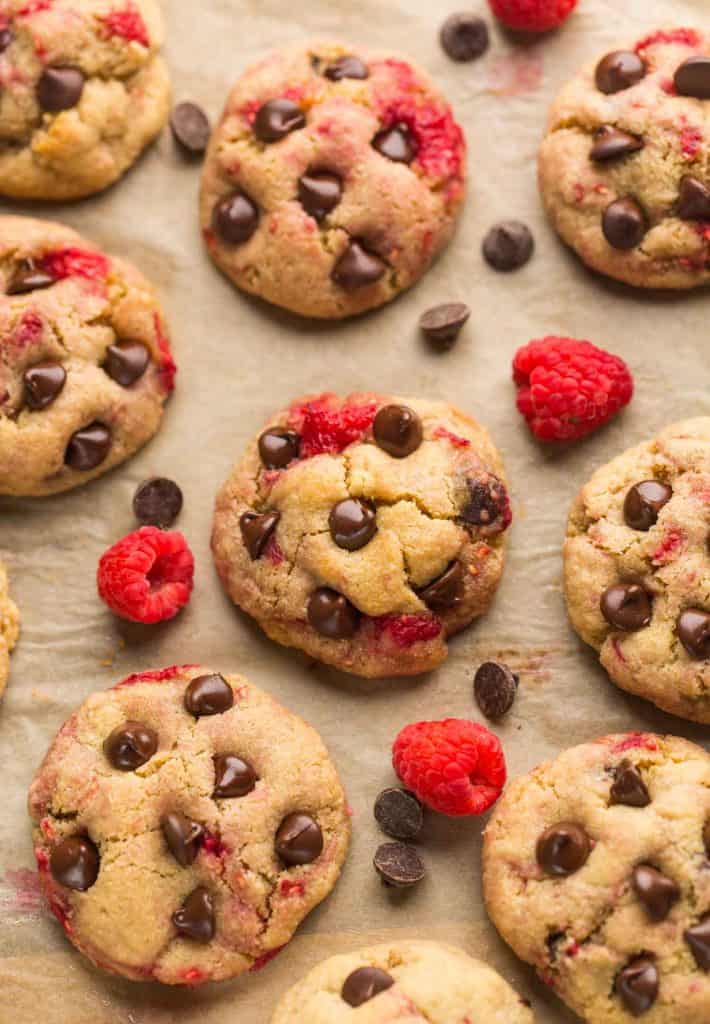 FACEBOOK | INSTAGRAM | PINTEREST  
Don't forget to #asaucykitchen on instagram if you try these Almond Flour Raspberry Chocolate Chip Cookies! We love seeing what you make!  You can also post your pictures to my facebook page!
Yield: 15 cookies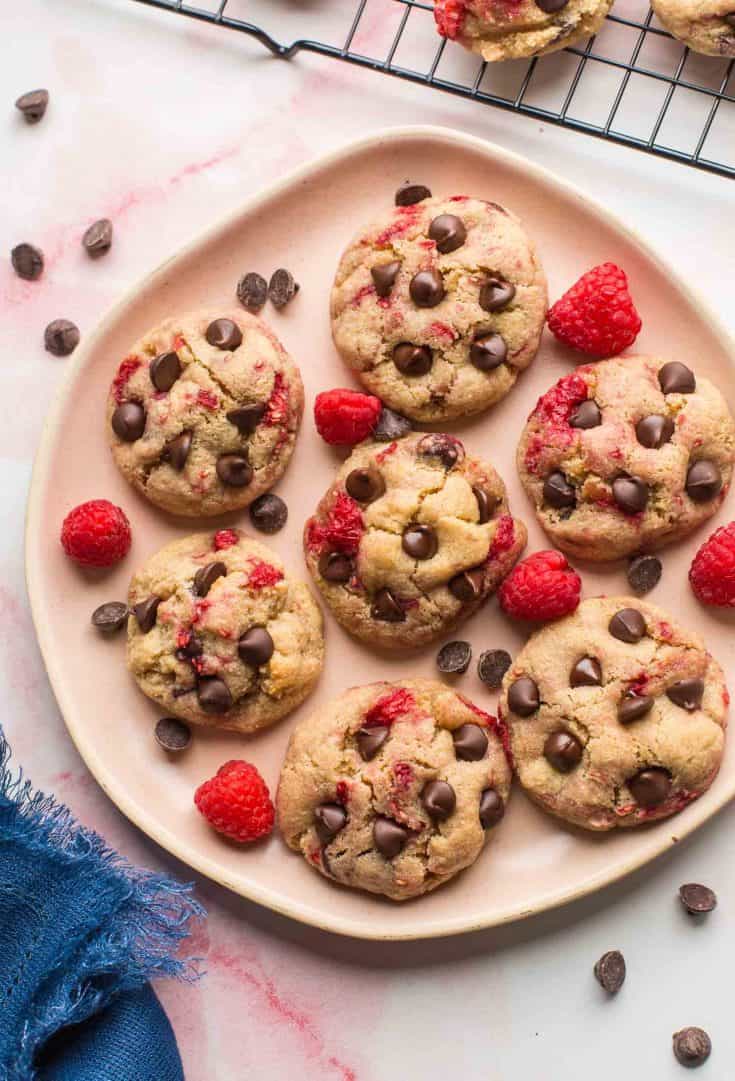 All you need is one bowl and about 30 minutes to make these simple, sweet and surprisingly satisfying raspberry cookies. Gluten Free + Vegan Option
Prep Time
15 minutes
Cook Time
12 minutes
Total Time
27 minutes
Ingredients
2/3 cup | 150 g butter, salted or unsalted, softened to room temperature (use dairy free butter if needed)
3/4 cup | 165 g brown sugar
1 egg or 1 lax or chis seed egg (see notes for flax/chia seed egg )
2 teaspoons | 10 ml vanilla extract
2 3/4 cups | 265 g almond flour
3 tablespoons | 21 g coconut flour
1/2 teaspoon baking soda
1/2 teaspoon salt
1/2 cup | 85 g chocolate chips (dairy free if needed)
1/2 cup | 100 g frozen raspberries, roughly chopped
Instructions
Preheat oven to 350°F/177°C. Line a couple of large cookie sheets with baking paper. Set aside.
Cream together the butter and sugar in a large mixing bowl with an electric or stand mixer. Mix in the egg (or flax/chia egg) and vanilla. Stop and scrape down the sides of the bowl as needed.
Add the almond flour, coconut flour, baking soda and salt to the sugar mixture and mix in on a low speed until a dough forms.
Stir in the chocolate chips with a spoon or rubber spatula. Add the chopped raspberries and mix into the dough.
Scoop out heaping tablespoons of dough and roll into balls. Place on the prepared baking sheets about 2 inches apart. Gently press the cookies down a bit – they won't spread much when baking.
Bake for 11-13 minutes until the edges have goldened.
Allow the cookies to cool for at least 5 minutes on the tray before moving them to a wire cooling rack. While they're still hot, carefully press a few chocolate chips into the tops of the cookies.
Cookies will keep stored out in the open at room temperature for 4-5 days.
Notes
Flax or Chia Egg: Combine 1 tablespoon ground flax seed or chia seeds with 2 tablespoons water. Mix together and set aside for about 10 minutes until the mixture gels up.
If using a flax or chia egg you must let your cookies cool on the baking sheet for at least 5-10 minutes before transferring them to a wire cooling rack.  If you try to move them too early they will fall apart. Just be patient. Once they are cooled you won't know they difference!
More Almond Flour Cookies You Might Enjoy