February 20, 2021
Broccolini 3 Ways (15 minutes!)
This post shows you how to cook broccolini using three different methods- sautéing, grilling and roasting. Simple, healthy, and flavorful, they are perfect served as a side dish.
Mastering the basics in the kitchen can make you a more confident and efficient cook. I've shared tutorials for how to cook asparagus, and how to cook sweet potatoes in the past, but this post shows you how to cook an extremely underrated veggie- broccolini!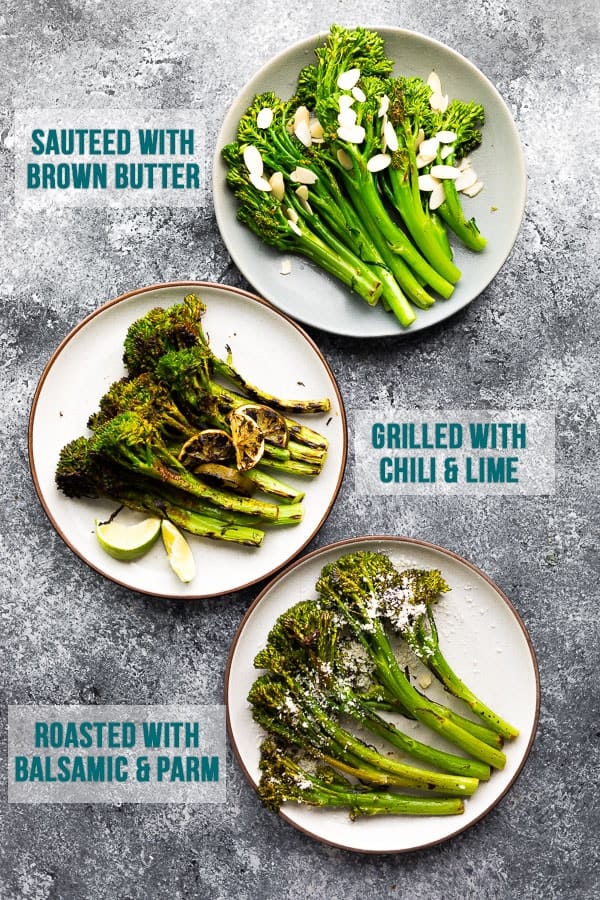 Broccolini is a hybrid of broccoli and Chinese broccoli (1). With thin, elongated stems, broccolini tastes similarly to broccoli, but is more tender in texture, and slightly sweeter in flavor.
Broccolini is a great addition to your diet, and is rich in fibre, Vitamins A and C, as well as several minerals (2).
When cooked the right way, broccolini can be an elegant side dish with delicious flavor. Pair it with herb crusted broiled salmon, or perfect backed chicken thighs for a simple, healthy meal.
Don't forget to pin this post to save it for later!
Reasons you'll love broccolini
it's an elegant, healthy side dish (more tender and sweet than broccoli)
these recipes can be prepped and cooked in under 15 minutes
it's low carb, gluten-free, vegan, and a good source of fibre, vitamins and minerals
Recipe video
Watch the video below to see exactly how I prepped these three broccolini recipes. It's so easy! You can find more of my recipe videos on my YouTube channel, or on Facebook.
Preparing broccolini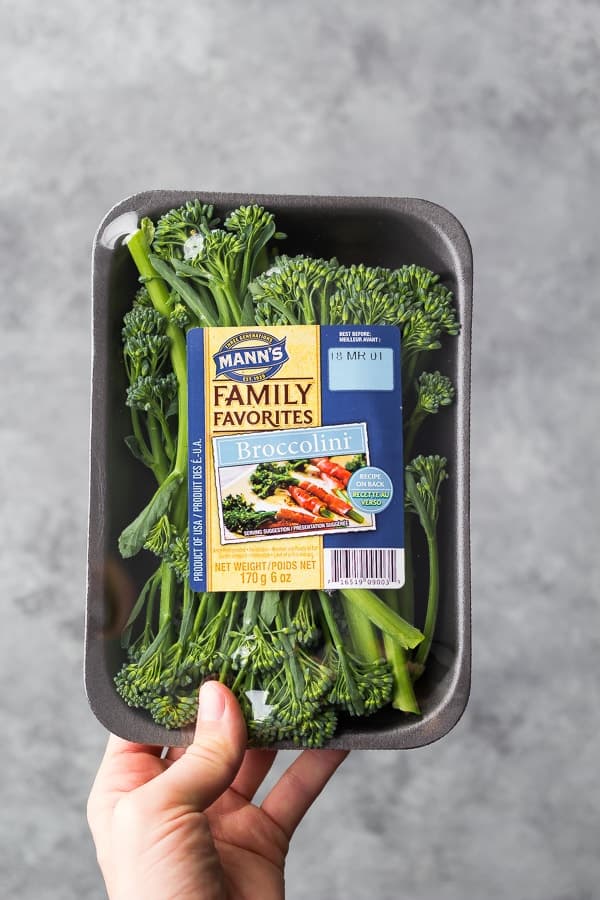 Wash- Before you get started with cooking, remove the broccolini from the package, and wash under cool tap water.
Arrange the broccolini on a clean tea towel and pat it gently to dry.
Remove leaves- If there are leaves attached to the stems of your broccolini, pull them off and discard.
Trim ends- Slice off the very bottom tip of the broccolini stem (1/4 inch or so). We will be cooking the entire broccolini (including stems) so don't trim too much off!
How to cook broccolini
Like broccoli, broccolini can be cooked many different ways: sauteed, steamed, roasted, grilled, and (probably, though I haven't tried) air fried.
Broccolini doesn't take long to cook through (5-10 minutes cook time), and you don't want to overcook it. The stems will still have some crunch when the florets are cooked through.
Roasted broccolini- 425°F for 10-12 minutes on a heavy sheet pan, and tossed in some olive oil.
Grilled broccolini- medium/high for 5-6 minutes. I highly recommend using a vegetable grilling plate so you don't have to worry about your broccolini falling through the grates.
Sauteed broccolini- 5 minutes uncovered in some olive oil, 5 minutes covered. I used a standard non-stick pan.
Scroll to the recipe card for three recipes to roast, grill or sauté broccolini
Flavors that work well
Not only are there a variety of ways to cook broccolini, but there are also so many different flavors that go well with it!
feta or parmesan cheese
lemon and lime juice
balsamic vinegar or reduction
garlic or ginger
almonds or sesame seeds
olive oil or butter
soy sauce
Recipe ideas
The broccolini recipes that I'm sharing in the recipe card below are 1) Roasted with balsamic vinegar and parmesan, 2) grilled with chili and lime, and 3) sauteed with brown butter and almonds.
There are so many other delicious ways you can enjoy your broccolini, too!
More easy side dishes
☆ Did you make this recipe? I'd love to hear how it turned out! Leave me a review and star rating in the comments below. Your reviews help so much!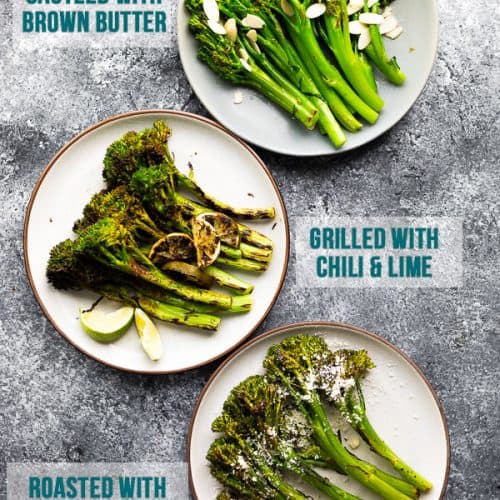 Print Recipe
How To Cook Broccolini- 3 Ways
Calories: 134kcal
Servings: 3
How to cook broccolini- three simple recipes to get a healthy side dish on your table quickly! Roasted broccolini with balsamic vinegar and parmesan, grilled broccolini with chili and lime, and sauteed broccolini with brown butter and almonds.
Ingredients
Sauteed Broccolini with Brown Butter &Almonds
Grilled Broccolini with Chili & Lime
Roasted Broccolini with Balsamic Vinegar & Parmesan
Instructions
Sauteed Broccolini with Brown Butter &Almonds
Heat olive oil in a pan over medium heat. Add the broccolini and season with salt and pepper. 

Cook, stirring occasionally, for five minutes. 

Cover and let it steam for 5 minutes, or until the broccolini is bright green and tender.

While broccolini is cooking, melt butter in a small saucepan. Simmer, swirling the pan occasionally, for 5 or so minutes, until you can see small brown flecks and smell a nutty, toasted smell. 

Remove from heat immediately and pour over the broccolini.

Sprinkle with sliced almonds and serve immediately.
Grilled Broccolini with Chili & Lime
Heat grill over medium/high heat.

Toss broccolini with olive oil, sprinkle with cumin, chili powder, and season with salt & pepper. Toss to coat.

Arrange on a vegetable grilling plate and place lime slices on the broccolini.

Grill for 5-8 minutes, flipping halfway. Serve with lime wedges.
Roasted Broccolini with Balsamic Vinegar & Parmesan
Heat oven to 425°F. 

Toss broccolini with olive oil, balsamic vinegar and garlic. Season with salt & pepper.

Arrange broccolini on a sheet pan. Pour any extra sauce and garlic over the florets.

Bake for 8-12 minutes, until broccolini is cooked to your liking.

Sprinkle with fresh parmesan cheese and serve.
Nutrition
Serving: 1/3 portion of the brown butter broccolini | Calories: 134kcal | Carbohydrates: 0g | Protein: 1g | Fat: 14g | Saturated Fat: 5g | Cholesterol: 20mg | Sodium: 67mg | Potassium: 31mg | Fiber: 0g | Sugar: 0g | Vitamin A: 235IU | Calcium: 12mg | Iron: 0.2mg