December 7, 2020
Cheesy Chive Gluten Free Biscuits
Fresh out of the oven these Cheesy Chive Gluten Free Biscuits will rival any restaurant quality biscuit (looking at you Red Lobster)! Made all in one bowl in about 20 minutes – there's very little to it! Simply mix, drop and bake for about 15 minutes until your biscuits are soft on the inside with a golden crust formed on the outside!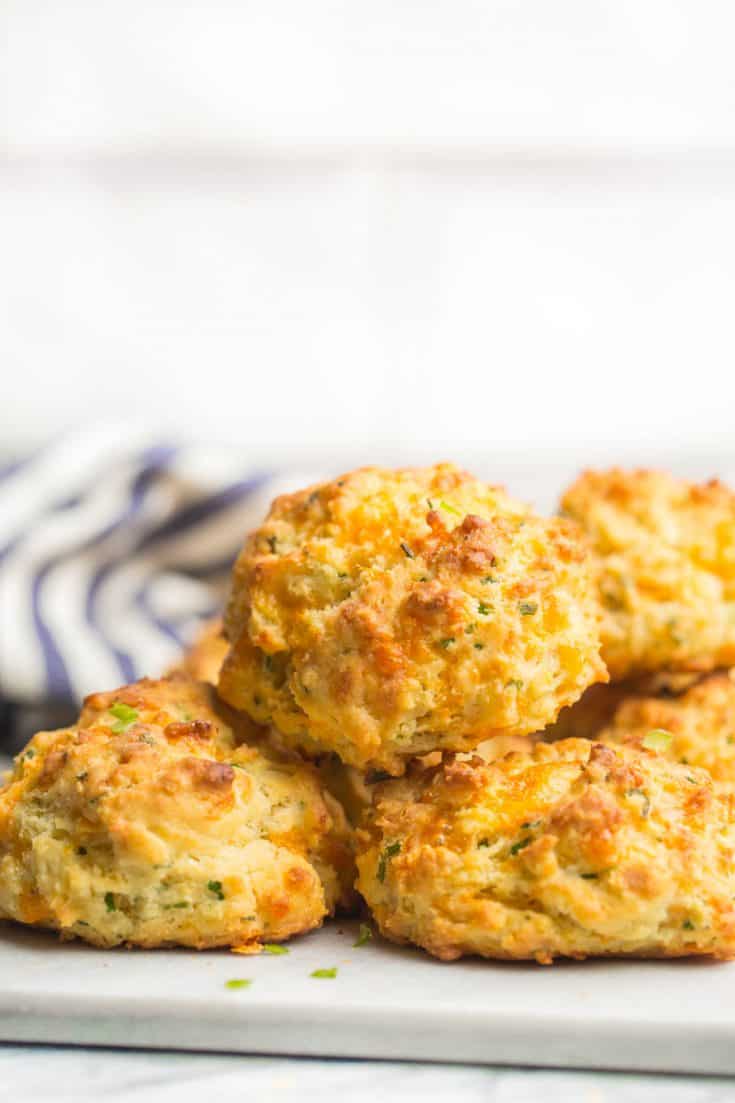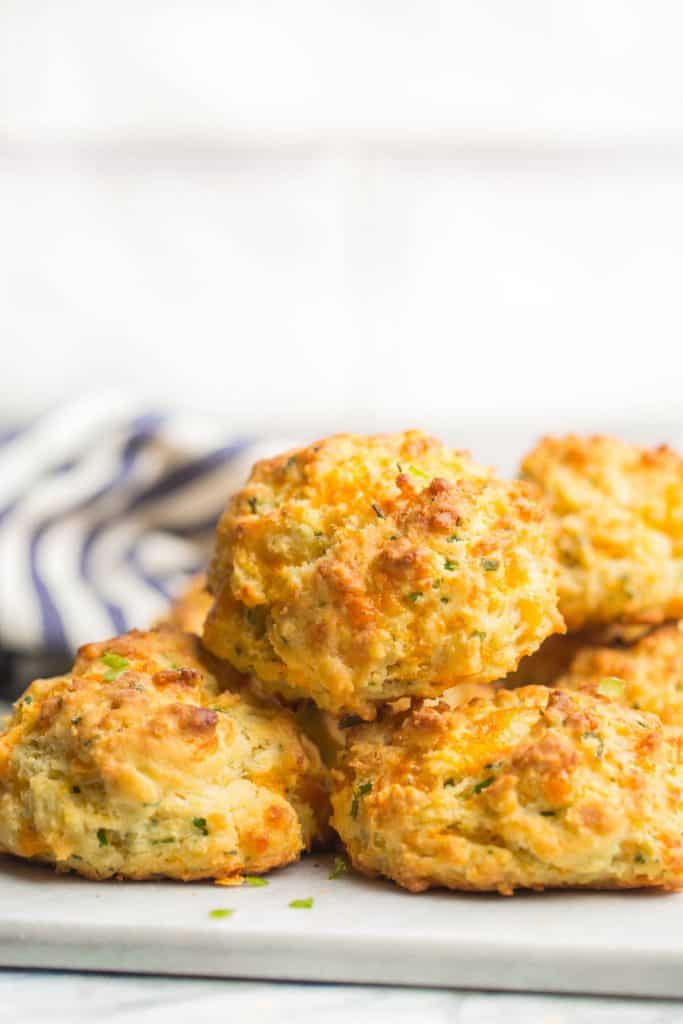 How to Make These Gluten Free Biscuits
Whisk together the dry flours and powders until combined.
Mix in the cubed or grated butter.
Whisk in the chives and cheese.
Stir in the buttermilk until a thick, sticky dough forms.
Drop the biscuits onto the prepared baking sheets and bake until golden.
Enjoy!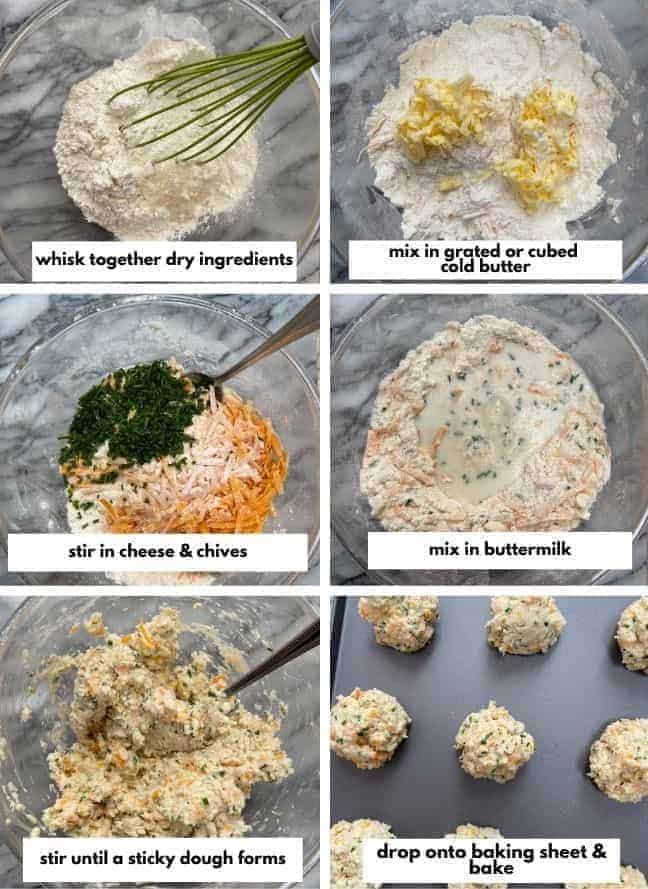 FAQ'S
What type of cheese should I use?
Any type of shredded, grated cheese like cheddar will work. I usually make this using Red Leicester or Double Gloucester for their orange-y pigments (cheddar cheese is white here in the UK), but I have used provolone in a pinch when I was out of my other options.
Just keep make sure that you use a cheese that you enjoy as it will come though in your final gluten free biscuits.
What type of flour should I use?
Any basic all purpose gluten free flour blend will work. If available I like using my own homemade gluten free flour blend but will often use whatever generic brand is available (like this one) at my local grocery store. Just make sure you're using something that is a blend of flours.
How to make these dairy free/vegan friendly?
You can use dairy free/vegan cheese and dairy free buttermilk.
To make your own dairy free buttermilk: Combine 1 cups (240 ml) non dairy milk with 1 tablespoon lemon juice or apple cider vinegar. Mix and let stand at least 5 minutes. When your milk looks a little bit curdled it's ready to go.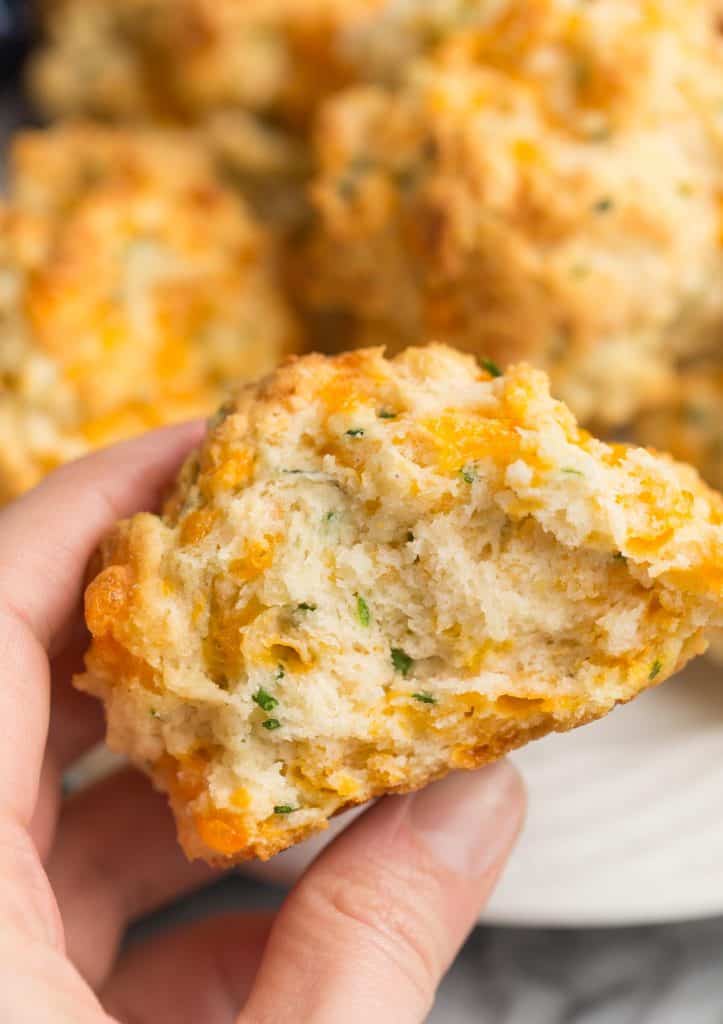 Tips
Drop the biscuits onto your baking sheet – don't try to roll or form them too much.
The dough for these gluten free biscuits (like most gluten free doughs) need a lot of moisture to stay soft. Because of the extra moisture in the dough the batter will feel a bit wet and sticky to the touch which makes it difficult to roll, cut or form into neat little biscuits. I recommend just scooping and dropping the dough onto the baking sheet to save you the hassle.
It's also important to be somewhat delicate with your batter because packing the dough and forming it into a neat ball will make for tougher bread rolls.
Grate your butter to make it easier to incorporate in to the flour.
Hard, cold butter incorporated into flour when baking makes for more flaky, tender baked goods. Usually, the recommendation is to cut the butter into cubes and then mix in with a fork or pastry cutter. This can be tedious and somewhat tricky to do. Instead – grate the cold butter using the large holes on a box grater. It grates quickly and mixes in easily making for a much faster, smoother process.
Add Herbs & Spices
If you're up for playing around with your flavours feel free to add additional herbs and spices to these rolls. Garlic and onion powder are great additions if you're interested in a more garlic bread-like flavour. You can sub out the chives for spring onions and add fresh parsley to the mix.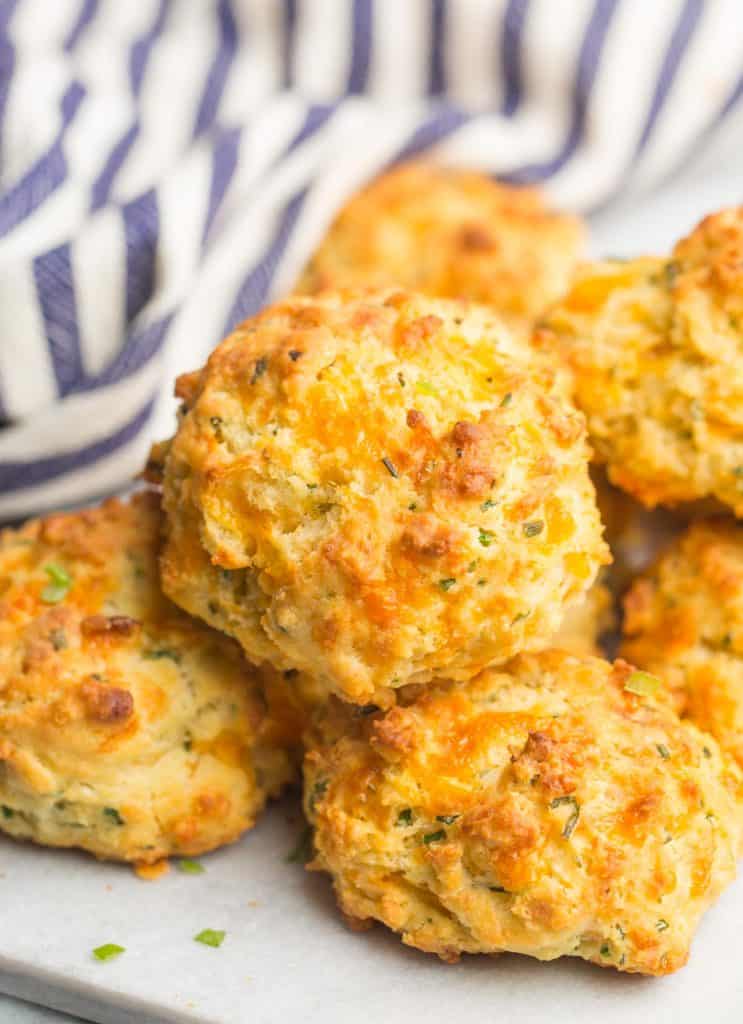 Hope you enjoy!
More Gluten Free Breads & Crackers You Might Enjoy:
FACEBOOK | INSTAGRAM | PINTEREST |
Don't forget to tag @asaucykitchen if you try these Gluten Free Cheesy Chive Biscuits! You can also post your pictures to my facebook page!
Yield: 8-9 biscuits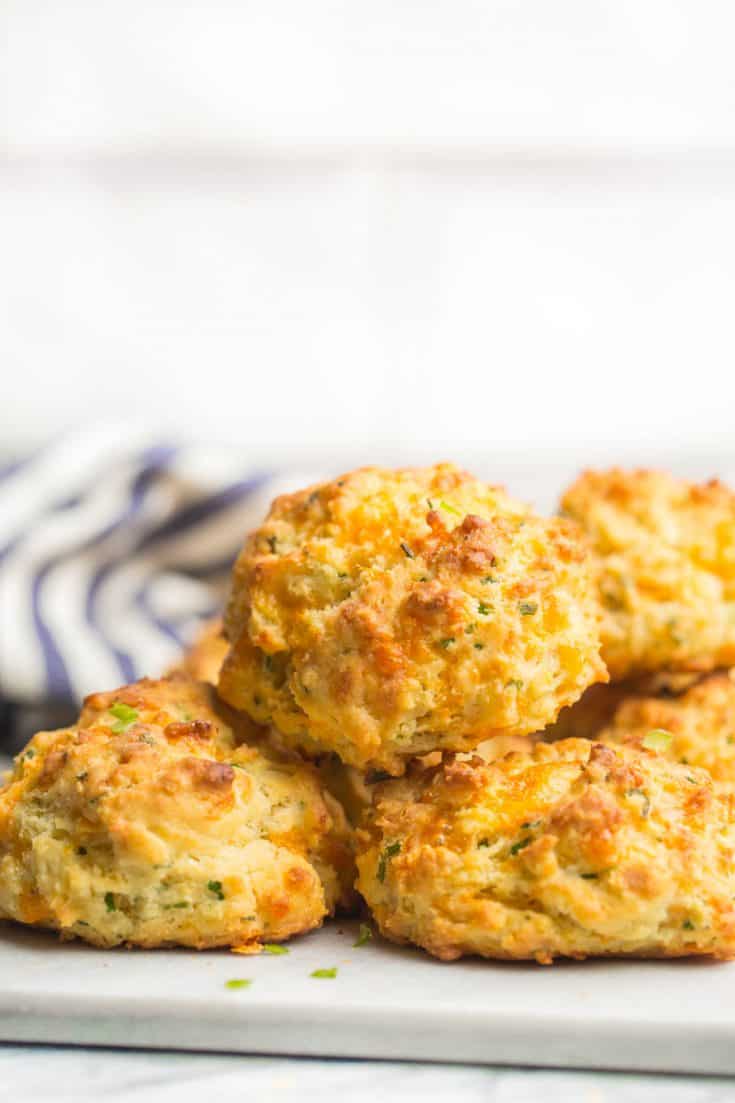 Prep Time
10 minutes
Cook Time
17 minutes
Total Time
27 minutes
Ingredients
2 cups gluten free all purpose flour (270 g)
1 1/4 teaspoon xanthan gum (leave out if your gluten free flour blend already contains xanthan)
1 tablespoon baking powder
1/2 teaspoon salt
1/3 cup cold butter, grated or cubed (75 g)
1/4 cup finely chopped chives
1 cup grated cheese – use cheddar or cheddar-like cheese (4 oz)
1 cup buttermilk (240 ml)
Instructions
Preheat oven to 400°F/205°C. Lightly grease or line a large baking sheet.
Whisk together the flour, xanthan gum (if using) baking powder and salt until combined.
Add the cold butter (or butter sub) and mix together with a fork or pastry cutter. Mix until you have a sandy kind of mixture. 
Stir in the grated cheese and chives until mixed well.
Make a well in the middle of the flour and pour the buttermilk into well. Stir until a soft, slightly sticky dough forms.
Drop large, heaping spoonfuls of the dough onto the prepared baking sheet. Leave a couple of inches in between each biscuit to leave room for growth.
Place in the middle of the oven and bake for 15-17 minutes until puffed and golden in colour.
Let cool for a couple of minutes then enjoy warm.
Notes
You can make these dairy free/vegan friendly by using vegan shredded cheese and dairy free buttermilk.
HOW TO MAKE DAIRY FREE BUTTERMILK:
Combine 1 cup (240 ml) non dairy milk with 1 tablespoon lemon juice or apple cider vinegar. Mix and let stand at least 5 minutes. When your milk looks a little bit curdled it's ready to go.