February 20, 2021
Instant Pot Coconut Lime Chicken and Rice
Bright, zesty and supremely satisfying – this Instant Pot Coconut Lime Chicken and Rice will soon become a meal-time favourite in your home! In addition to the light and creamy coconut lime flavour – onion, garlic and ginger make up the base flavours while the heat from the chili adds a gentle hum of spice. The turmeric provides the vibrant golden colour along with its powerful anti inflammatory benefits. | Gluten Free + Dairy Free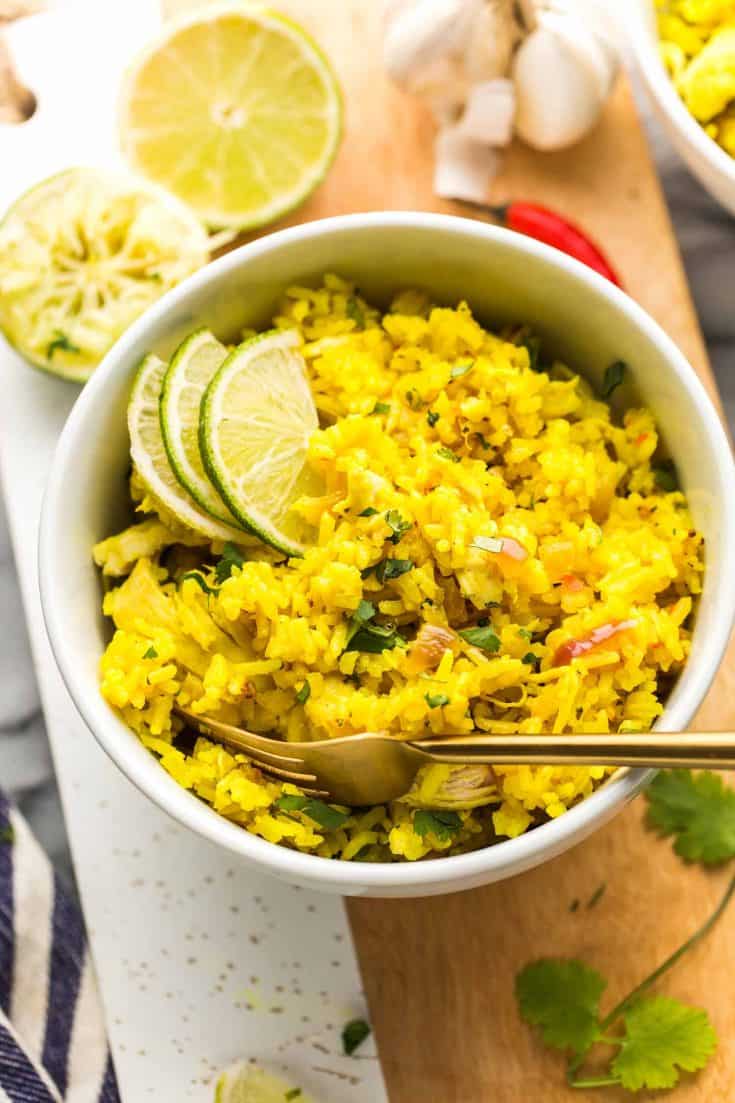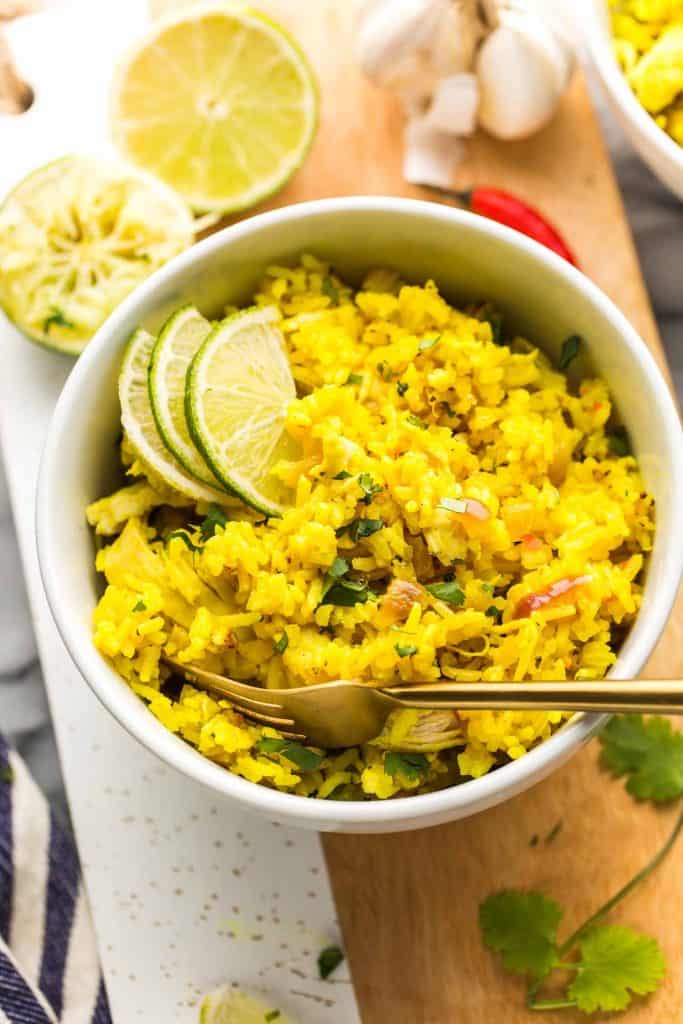 I normally like to include pictures or video to go along with each of my recipes showing how to make things step-by-step but today we're going to have to do without. After spending the better half of my morning prepping this recipe and recording a video for it I mindlessly ended up deleting all of my footage in truly brilliant move.
So! Until I get around to re-filming everything I'm going to keep it short and simple – just like this recipe!
Based off of my much loved Coconut Lime Chicken, this recipe takes that reader favourite and transforms it into an even more convenient, easy to make and filling dish. Like my original recipe, this can be done all in one pot in about 30 minutes start to finish (including the time it takes for the instant pot to come up to heat and depressurise). What's even better about this recipe is the fact the rice cooks along with the chicken in this zesty coconut lime sauce cutting down on time and amping up the overall flavour. The end result is a dish that is filling, delicious and easy to make!
Instant Pot Coconut Lime Chicken and Rice Tips
Rinse your rice: Rinsing your rice first helps achieve a couple different things:

It removes excess starch from the rice which will keep it from burning to the bottom of the pot.
It adds a little more moisture to the recipe which is helpful when cooking rice.

Let the pressure cooker depressurise naturally for at least 10 minutes before your try to open it. If you opt for the quick release method you're more likely to end up with rice stuck to the bottom of the pot.
Don't be afraid to add more salt or lime juice at the end.

The amount of salt your dish will need depends on how salty your stock is. A lower sodium stock will need more salt to make up for it and a high sodium salt won't need quite so much. It's always important to taste and season as you see it because we're all working with slightly different ingredients.
I recommend keeping a couple extra limes on hand. One, large lime will hold about 2 tablespoons of lime juice but this isn't always the case. Your lime juice will also vary depending on how fresh your limes are. If you feel like your dish just isn't popping the way you want, add more lime juice (or salt) and taste again.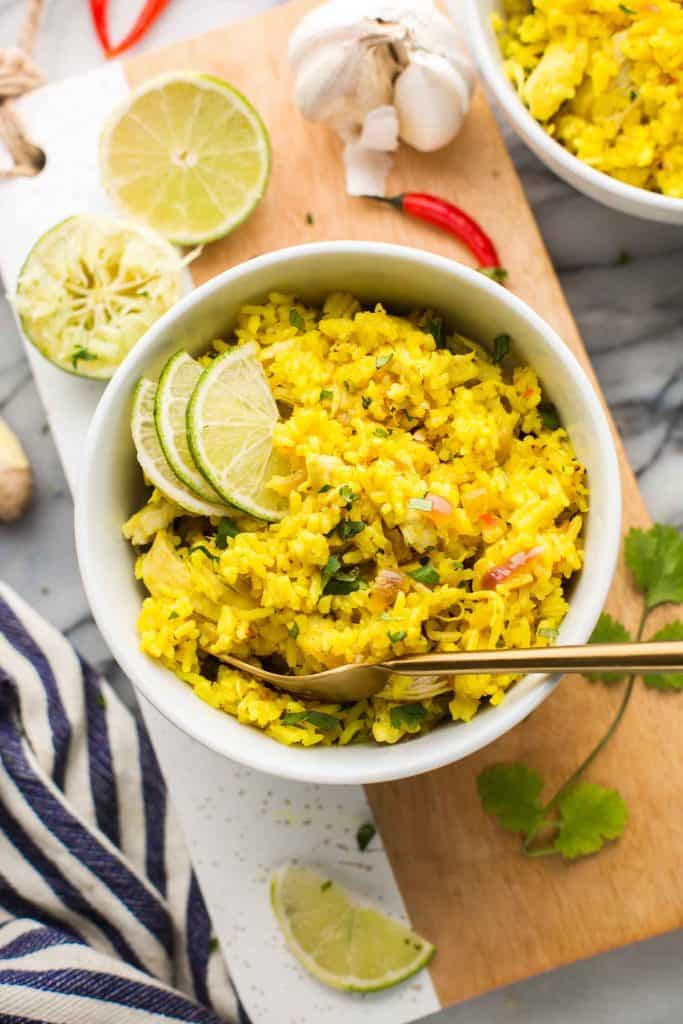 FACEBOOK | INSTAGRAM | PINTEREST  
Don't forget to #asaucykitchen on instagram if you try this Instant Pot Coconut Lime Chicken and Rice! We love seeing what you make!  You can also post your pictures to my facebook page!
Yield: 6 cups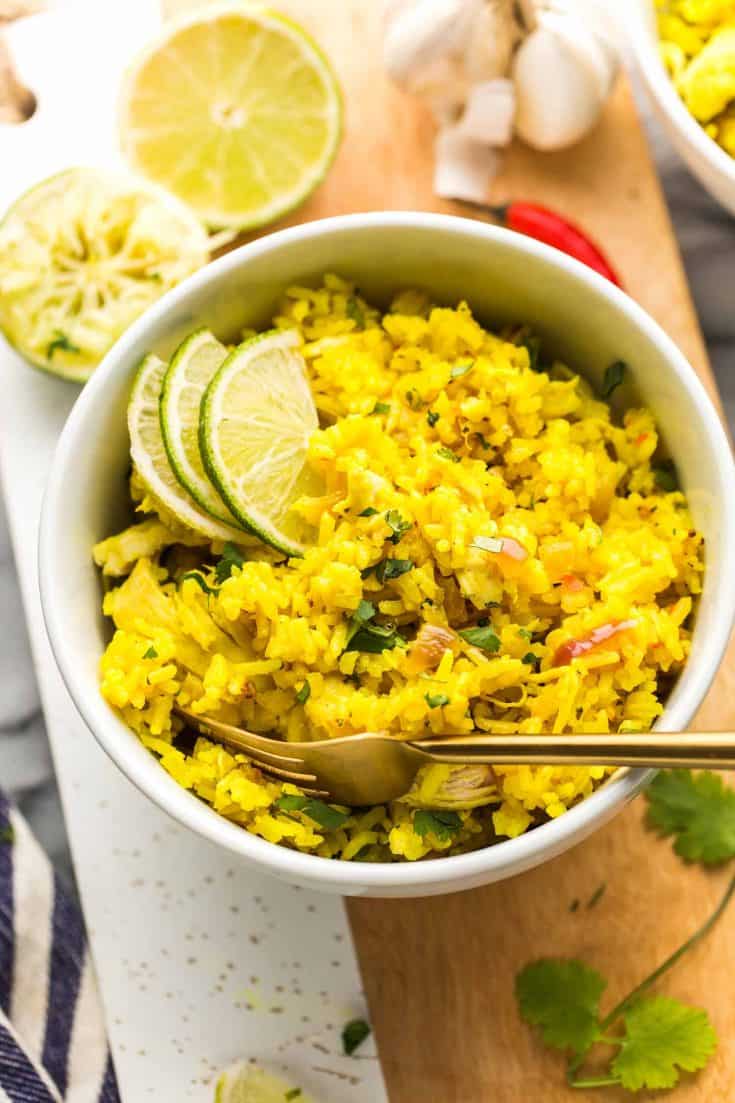 Onion, garlic and ginger make up the base flavours while the heat from the chili adds a gentle hum of spice. The turmeric provides the vibrant golden colour along with its powerful anti inflammatory benefits.
Prep Time
10 minutes
Cook Time
15 minutes
Additional Time
15 minutes
Total Time
40 minutes
Ingredients
1 tablespoon coconut oil
1 large red, white or yellow onion, diced
5 cloves garlic, minced
1 tablespoon fresh ginger, minced
1 birds eye chili (or chili of your choice)
1 teaspoon ground turmeric
2 cups | 360 g uncooked white rice, rinsed*
1 15 oz can full fat coconut milk
2 cups | 480 ml chicken stock
1 teaspoon sugar
2 large limes (or about 1/4 cup | 60 ml lime juice)
1/4 cup fresh cilantro, measure after chopping
1.5 pounds boneless, skinless chicken breast or thighs
1 teaspoon salt (or to taste)
Instructions
Press the sauté button on the instant pot. Add the coconut oil. When the oil is simmering add the onion and cook 5 minutes.
Add the garlic, ginger, chili and turmeric and cook another 1-2 minutes.
Add the rice and mix until fully coated in spice and veggies.
Stir in the coconut milk, chicken stock, sugar zest and juice from one lime (2 tablespoons lime juice) and 2 tablespoons chopped cilantro. Mix well. Make sure to scrape the bottom of the pan with a wooden spoon to remove any burnt bits from the bottom. This is important to do thoroughly to prevent the 'burning' message from popping up later.
Add the chicken breasts to pot. Push each breast down to fully submerge in the liquids.
Secure the lid on the instant pot and make sure the dial on top is set to 'sealing'. Cook on high pressure for 10 minutes. (Press 'Manual' or 'Pressure Cook' and set the timer to 10 minutes.) 
After the time is up the Instant Pot will automatically switch the keep warm. Let the pot naturally depressurise on its own for at least 10 minutes before switch the 'sealing' valve off for the quick release method.
After removing the lid carefully remove the chicken breasts from the pot and transfer to a cutting board or a plate. Using a couple of forks shred the chicken into small pieces and then add back to the pot.
Add the zest and juice from the remaining lime along with the remaining chopped cilantro. Stir everything together to fully mix. Taste and season your rice as needed. You may find you want a little more lime juice or salt.
Serve and enjoy!
Notes
Rinse your rice: Add the uncooked rise to a fine mesh strainer and rinse though roughly before adding it to the pot. This helps remove excess starch and should prevent the 'burning' message from popping up as your dish cooks. Don't worry about drying out the rise – simply add the wet rise to the pot and you're good to go.
Make sure to use unsweetened coconut milk.
The amount of salt you need to add will depend on how salty your stock is. A lower sodium stock will require more salt.